As fans of HGTV's Fixer Upper may have heard, Chip andf Joanna Gaines celebrated (or shall we say "Silobrated") the opening of Magnolia Market at the Silos on October 30th, 2015! The project was featured on Season 2 of the show and in true Fixer Upper fashion, Chip and Joanna threw a grand opening party for the big reveal -complete with a ribbon cutting and a GIANT mobile photo of the original Magnolia store- and I was lucky enough to be able to go to the grand opening!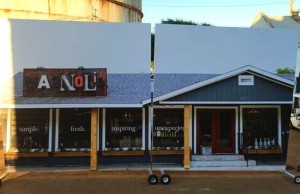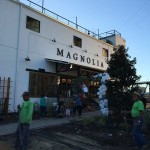 For those who may not have heard about the Silo project: the Magnolia Silos is a new marketplace designed and envisioned by Chip and Joanna Gaines. The marketplace is located on the property with the towering Silos – a historical landmark in the Waco Community. The property includes what was known as the "Rose Building" as it was a flower shop where Chip says he would he would go to buy flowers for "his lady".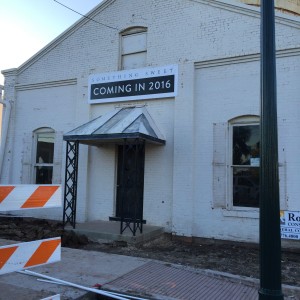 When Jo mentioned she wanted to turn the Silos into her next project, Chip thought she wanted to purchase just that little shop. But no, Jo had her eyes and heart set on the whole thing… the silos, the warehouse, the property, all of it! And Chip came through and purchased the whole property for her! The "Rose building" is now sporting a new banner… "Something Sweet Coming in 2016". Personally, I hope it is the Magnolia bakers who provided the most delicious cupcakes at the Silobration (not the same as the famous Magnolia Cupcake Bakery in NYC though).
The opening weekend was packed- there were thousands of people from literally every corner of the US who came for the festivities! Even though there were tons of people about, I noticed that people were very friendly and wanted to get to know one another. After getting settled in my hotel room, I walked outside to head over to the Silos and not even 3 feet out the door, I saw a woman walking toward me. We said hi, chatted about the Silobration and walked over to Magnolia Market together. 10 minutes in and I had already made a new best friend! We spent the rest of that weekend getting into all sorts of fun trouble. Must be something about Waco!
The property was unreal – much larger than what I had gleaned from watching Fixer Upper … and very grand indeed! Lucky for me and my friend, Jeanne, we made it to the site on Thursday before the shop was full of shoppers. Joanna's personal sense of décor and design came through in every nook and cranny or the shop – from the "today is a good day for a good day" signage down to the flower arrangement on the counter top. Every space was a visual eye candy – huge tables with towering displays of candles, clocks, furniture, furnishings, art, baskets, wreaths, floral surprises, jewelry – you name it! There was even a "Chip's Corner" that featured man sized specialties.
The in-store experience was warm and friendly – much like Chip and Joanna. I was curious to know who was responsible for creating the displays, the store design, the merchandising, the branding….surely there was a whole team behind it! Melissa, a lovely young lady who was part of the merchandising staff told me in the most heartfelt manner, "Why, Joanna of course! She did it all…. she's truly marvelous!"
The next day was a rainy one which caused a good bit of flooding in WACO. Jeanne and I decided to drive by many of the neighborhoods featured on Fixer Upper. We drove down Austin Ave – the same street seen in Seasons 1 and 2! Later, the rain came in hard and we were stranded for a bit in a virtual river in front of Lane's on Austin.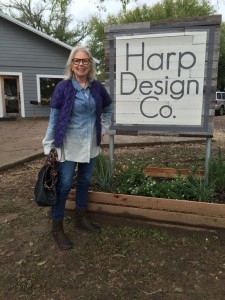 Luckily, Friday's monsoon didn't put a damper on the weekend. The sun came out on Saturday and Jeanne and I ventured out to some unique local spots in Waco which are sometimes shown on Fixer Upper. We visited Harp Design Co., Clint's Fixer Upper house, Junque in the Trunk, Shades of Shabby, Spice Market, the original Magnolia Market shop and many more. What fun!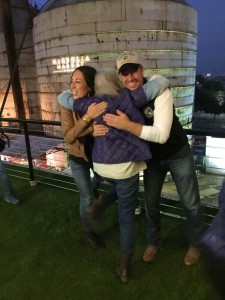 The grand opening Silobration on Saturday night was certainly an event to be remembered! I don't know how it happened, but I was lucky enough to be invited to a VIP celebration on the roof top of the new Magnolia Market with Chip and Joanna! I still can't believe that I got to meet them in person!
Chip and Joanna are exactly as you see them on TV – they are wonderful, humble, loving, funny, and genuine. I was so excited to meet them and talk to them! And I may have slipped my business card to Joanna later that evening….
The Silobration was spectacular! Food trucks offered culinary delights from Waco's finest, sprawling tables and tents welcomed guests, lawn games encouraged mingling, large screen monitors and even larger sound system made sure guests didn't miss an instant! The entertainment was provided by Johnnyswim, a husband and wife duo that rock! They also performed the theme song to the Fixer Upper episodes, "Home".
The night wouldn't be complete without some of Chip's antics. Chip rappelled off the top of one of the Silos as a part of his grand entrance to the stage! Chip and Joanna gave guests an exclusive sneak peek into Season 3 and answered questions we all had. They were so hilarious that I could not stop laughing! Chip even said on stage that night that he woke up today saying "wow, we're famous!" and promised so sweetly at the end of the night: "We will never forget where we came from and what is most important: family, community, love. Thank you ALL!!"
If being in Waco taught me anything, it's that family, community and love are what make a place a real home.
Family – Most of the renovations on Fixer Upper and many of the designs at Magnolia Markets feature a big table (often made by Clint Harp, of Harp Design). Tables like these live in our homes daily and remind us to gather around and spend time with those that matter most.
Community – On an episode of Fixer Upper, Chip and Joanna were hired by a couple's children to purchase a small Waco fixer upper and renovate for their parent's return. The parents were missionaries who had spent their life savings helping children with HIV in Uganda. Funds began to run low but instead of giving up on the project, the Waco community made donations to complete the home!
Love – The people of Waco show love for one another in many ways. I stayed at the Indigo Hotel where one staff member told us a moving story about his employer. The owner of the hotel drove him home one night in a storm after learning that the man didn't have a car and was going to extremes to get to work. Instead of just stopping there, the owner told the staff member to pick out a vehicle. The staff member hesitated but the owner insisted and bought him a truck. What an amazing story! I saw how the people of Waco show love for thy neighbor. Meeting Chip and Joanna, I saw the true feelings that they share. It is real…that light touch of Chip's hand on Jo's back, the look in their eyes…I saw it for real, in person.
I had the time of my life….and I owe it all to you, Chip and Joanna Gaines! You aren't just actors on a TV program, your genuine humor and love aren't just for show. You have truly brought back family, community, love of life, humor, compatibility, and you are humble, sincere and real people just like us. I'm so happy to have met you!
What a wonderful Silobration – best of luck to Chip, Jo, and Magnolia Markets!