National Painting Week at the end of May each year ushers in the summer season and reminds us that it is a good time to freshen spaces inside and out. A new coat of paint can change the perspective of an environment; add emotion or a bold statement. So let's grab a brush, roller, tape and drop cloth and get inspired!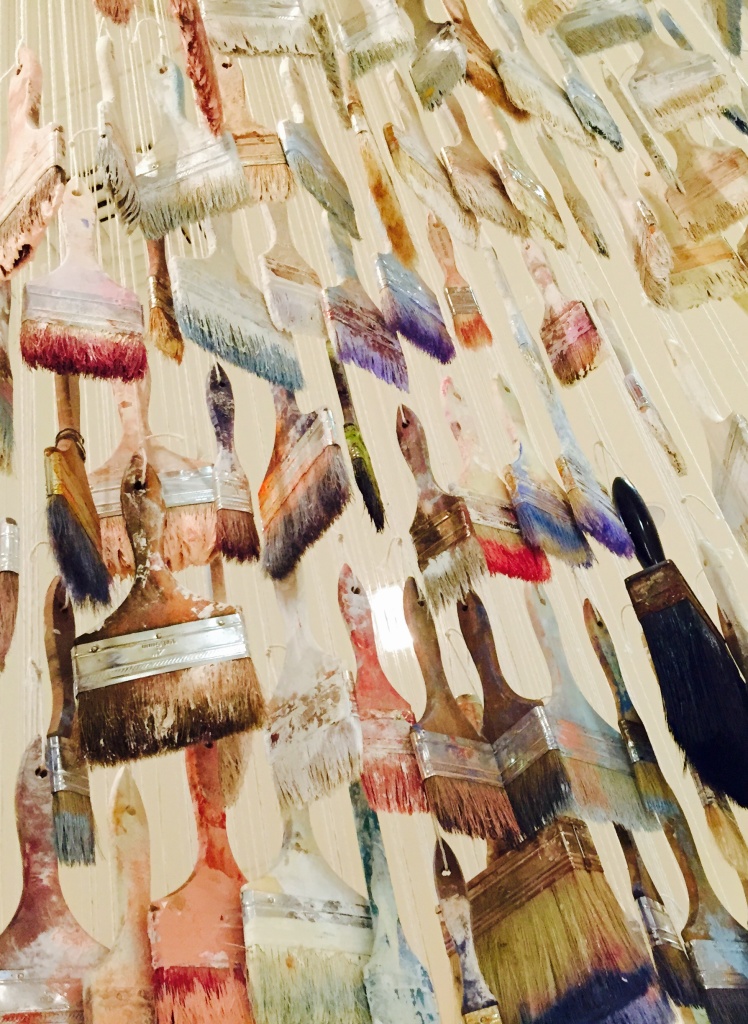 But first, you will need to select a COLOR or COLORS for your new look whether your project is for one room, multiple areas or entire home palette! PAINT! Color! – With over 3,000 colors available from Benjamin Moore and another 1,500 offered by Sherwin Williams alone, selecting paint color can be daunting if not vexing. Color evokes emotion and can calm, nurture, stimulate, show power, independence, elegance, innocence and uplift or irritate! Moreover, our eye takes in 7 to 10 million colors with 80% of our visual brain, evoking that emotional response. We need to get color right!!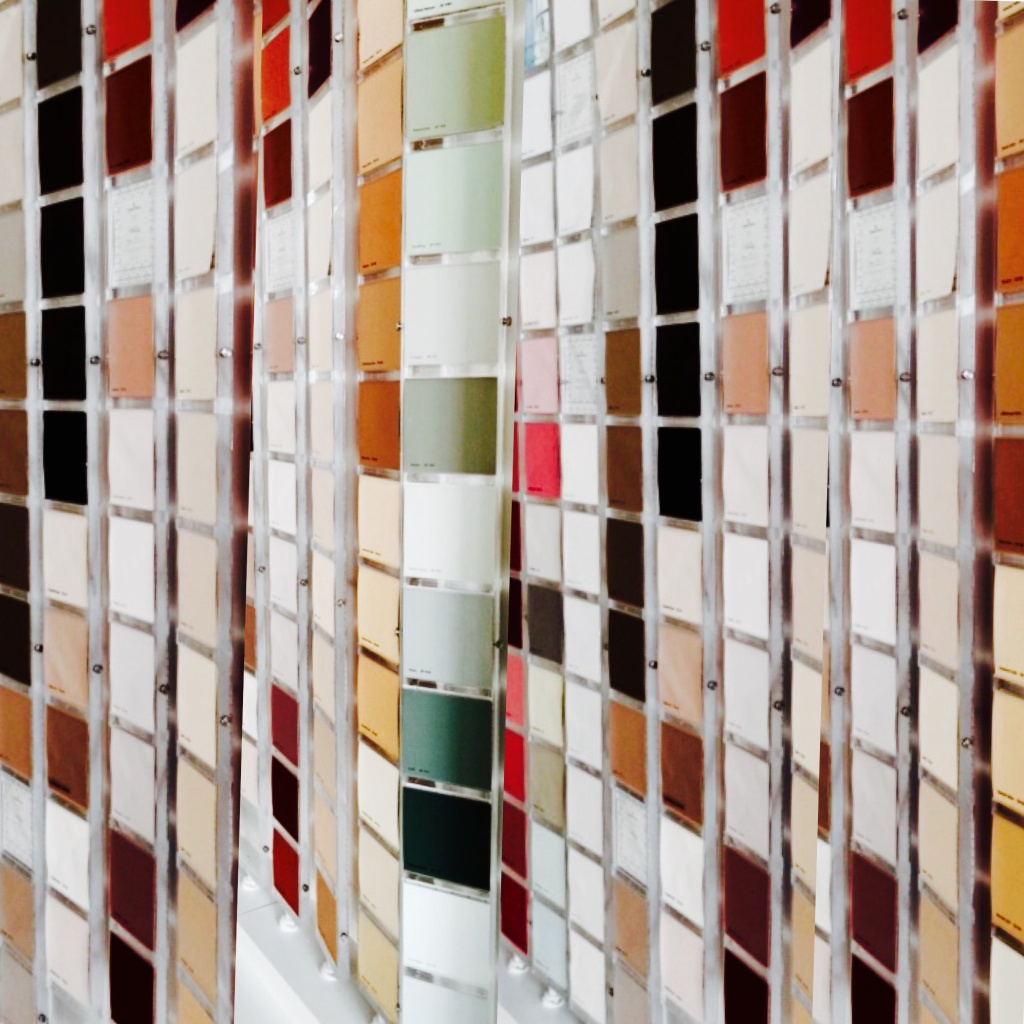 ……Over the years, I have developed a method to help my clients, friends and family select the perfect colors for interior or exterior, home or office, environment. No fail, no repainting: right the first time.
How to Select Paint Color
Determine your existing color design scheme – yes, you do have one!
>When I'm working with a client to develop a color palette, I like to review that client's existing "color" pattern or color design scheme. Everyone has one! Here's how to find yours:
Take a look at your wall art, cherished decorative objects, furniture and furnishings, even your bed fittings and linens – all the things that mean "home" to you. This helps to reveal a thread of colors that may prevail. Then consider elements that will not be changing such as floor material, the color of wood or vinyl flooring, the color or colors in the carpet(s), tile or stone. Consider also materials and hard surfaces such as the fireplace stone, kitchen countertops and back splash, bathroom tile. Like them or not, these "givens" set your color stage and there will be a theme or color scheme dictated by these core elements.
>What are the prominent colors that pop out when you look at these items?
>Which colors do you like?
>Which colors feel good to you?
>What "givens" would you like to change or replace?
>What can you change or replace?
[Client Example #1: Client A had a special event upcoming and wanted to refresh the first floor color palette. We determined that the palette had to work with the fireplace stone, kitchen countertops, wood floor and an oriental carpet that were the "givens" and developed a great color palette that complimented all of these elements.]
[Client Example #2: Client B's favorite wall hanging was a tapestry that included colors that seemed to repeat elsewhere in the home, although not consistently. That tapestry eventually defined the beginnings for a color palette that was developed for the entire home.]
2. What comes next?
Some folks can carry a tune….Others can strike a pose; some have an eye for color. What IF YOU don't? We'll get to that later!
>Now that I have determined what my client's existing color design theme looks like, I am armed with a pretty good idea of what their new color palette may become. I head off to Guiry's, a paint, wallpaper and art supply store located in Boulder, Colorado. Guiry's is a virtual library of every paint color imaginable and displays thousands of hues and tints on vast boards of sample cards, as well as fan decks and flip charts; enough color to set the head spinning!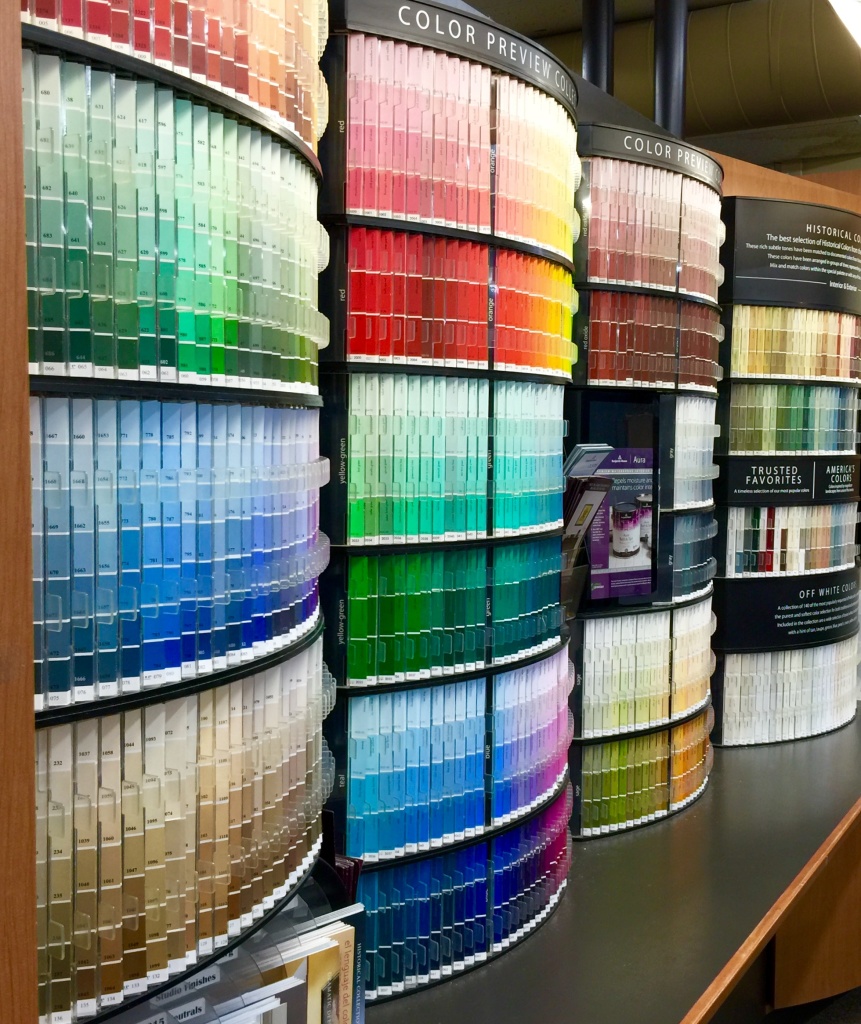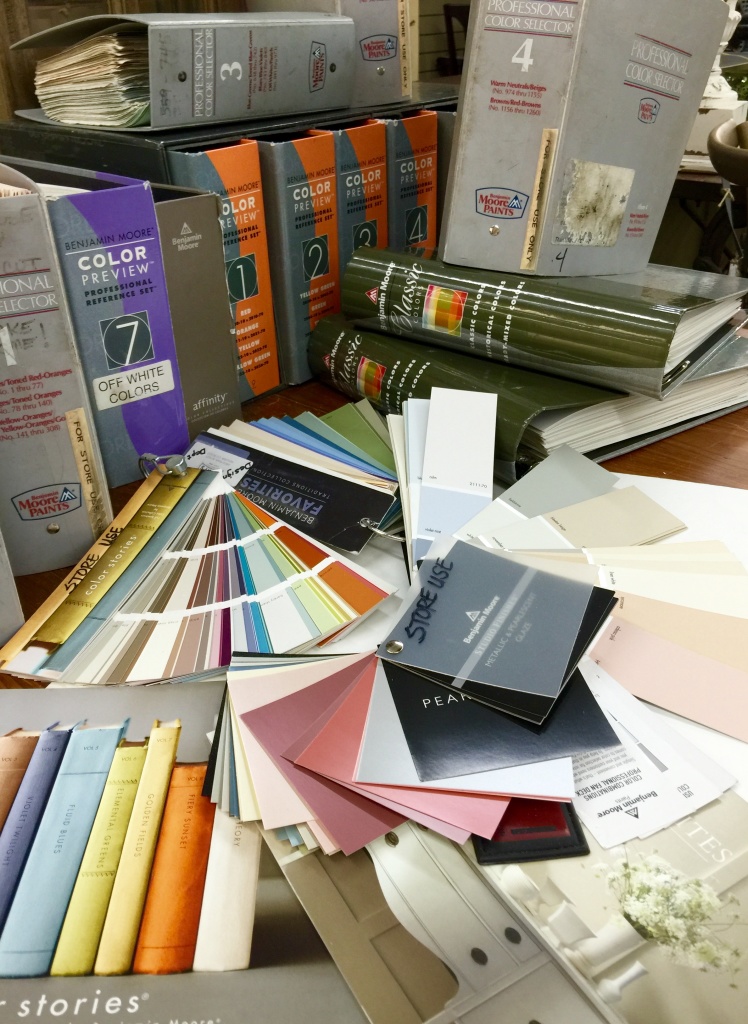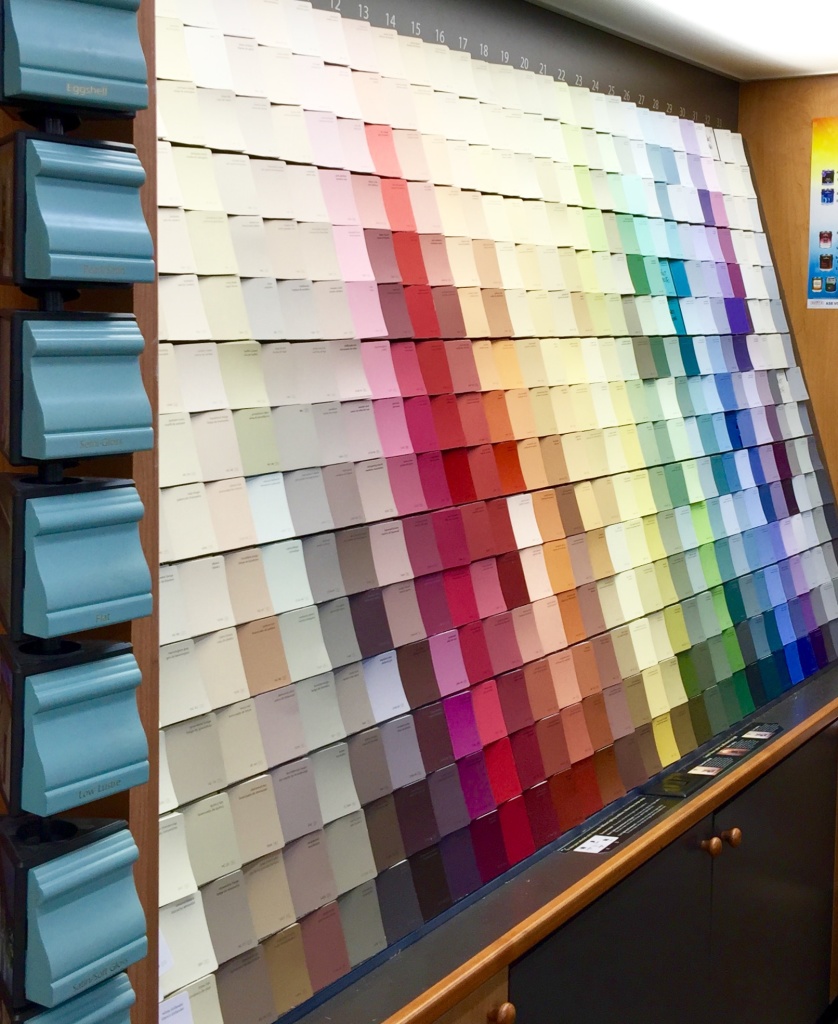 Gather Sample Color Cards
>I begin pulling colors that may work with my Client's budding palette and line them up by tint and hue.  Lots of little sample cards all over Guiry's work desk.  I begin big and pull a sample card for every color that has even a remote possibility of joining "my palette" and then eliminate the ones that are "too yellow" or "too green" or "too" whatever and is not fitting with my now developing color palette.
Hint:  I like to keep the color palette that I am developing in color families and select a variety of shades and tones, or tints of colors that will flow harmoniously from room to room.  I also like to include one or two darker tones that might become a feature or focal wall color.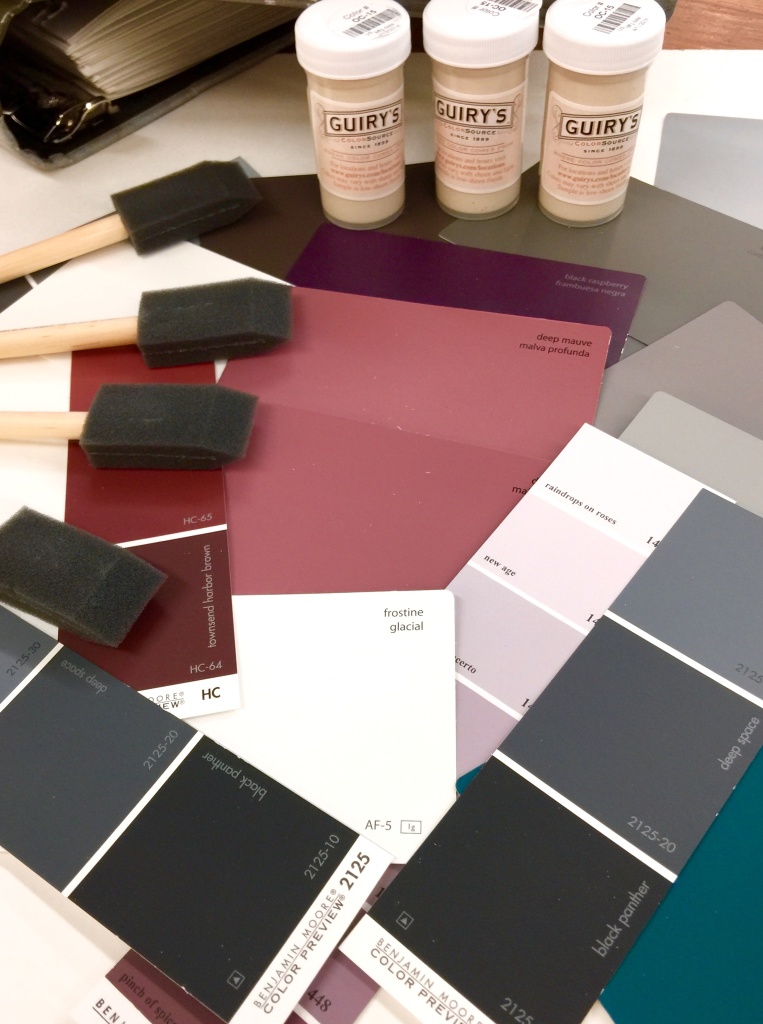 Due Diligence Testing
> The chosen sample color cards are brought back to my office where they are laid out on large sheets of white poster board by color, tint and hue. Next, I commence with DUE DILIGENCE Testing! Color is a shifty companion: it will change right under your eye with any number of circumstances. This is why, the color that looks absolutely perfect in the paint store and on the sample card, looks totally different on the wall!
Lighting Test
> I like to see how the colors play in natural daylight. So I look at all the little sample color cards in the morning and again in the evening, on a bright sunny day and a cloudy day. At night, I look at the color cards under incandescent, fluorescent and LED lighting where our shifty color companion takes on yet another look. So, yes, this process takes time and time is what it takes to get it right. The LIGHTING TEST vows to eliminate colors that are on the fringe.
Comparison Test
>As the color selection process continues, I refer back to the conversations with our client. I compare the color card samples with images I have taken of their home, including images of wall art or decorative items that the client liked. The color cards are also compared to samples of tile or stone or flooring that will remain or in the case of a remodel, samples of materials that have been selected. I may have a snippet or two of that favored wall hanging (as I did with the Client Example #2) or samples of the flooring, decorative backsplash, tile and countertop –Having samples and snippets of these materials helps to refine the colors to a solid core.
Hint: When working a remodel or renovation, leave the choice of paint color for last. This way all the other materials will have been selected and the paint color palette can work in harmony with the material palette. Remember that the home is a total picture and needs to be consistent in every way, color, material, furnishings, finishes, lighting….
(Client Example #3: Client C's home was a full gut remodel. When it came time to select the color for the new modern front door, we looked at the color used for the metal fascia on the new exposed 3 story stairway, the entrance ceiling light and wall sconces, the new porcelain foyer stone flooring, the interior door hardware and the wood burning stove. These elements needed to complement one another for the total look to be in harmony.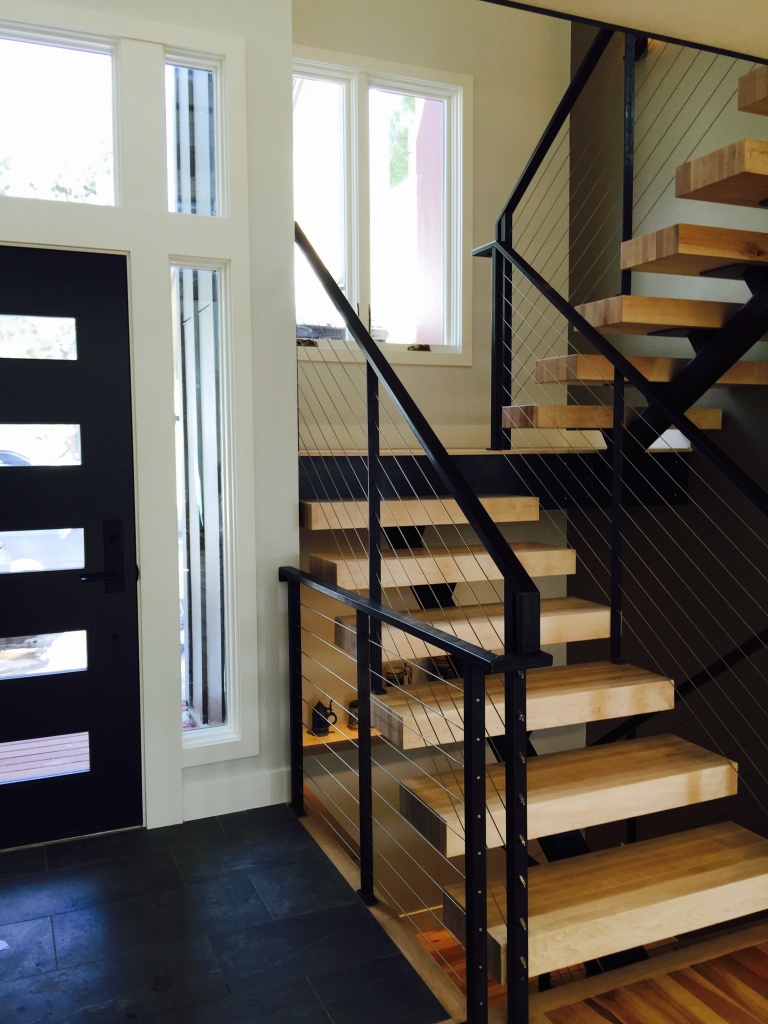 3. Time for Color Boards! My favorite part!
>Now with the core colors defined, I get to play! Color boards are an essential key to successful – no fail -color choices – never skip this step!!! Another point – don't skimp on the quantity of color boards you paint! I don't have a formula for how many color boards are needed for each color, but it's more than one! In a recent project we provided 12 color boards and chose 5 colors that became the palette.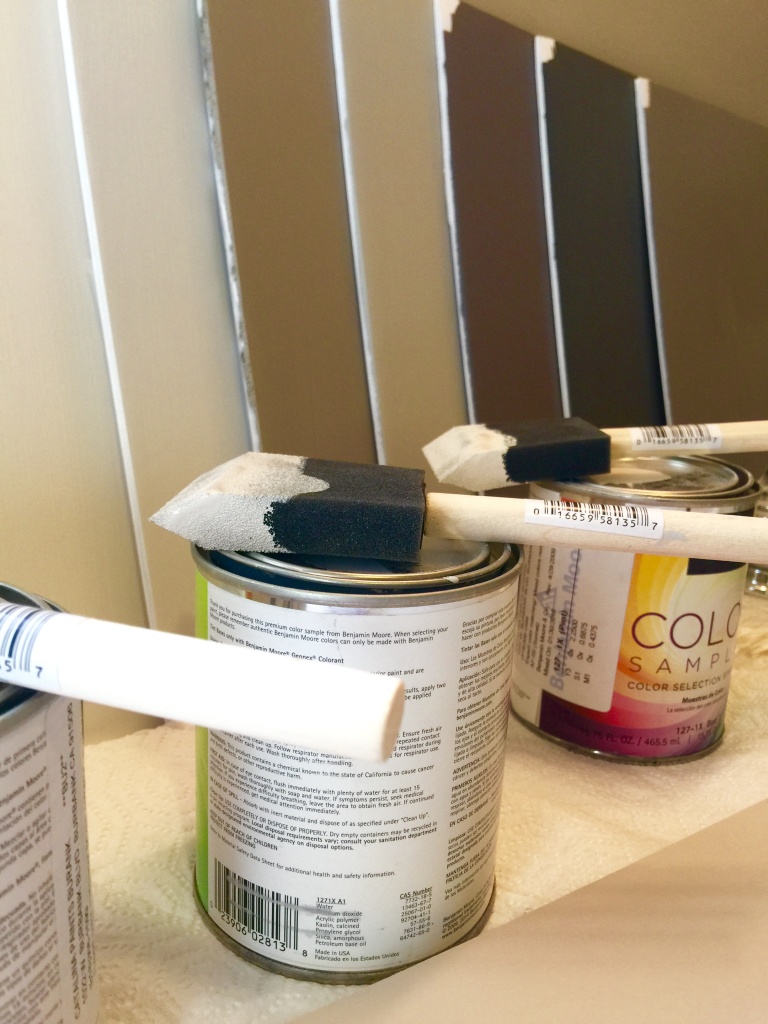 >Back to Guiry's. I purchase one 2 oz paint sample container of each of the core colors selected. I purchase white poster board and a disposable foam brush – again one for each core color. Back at the office, I begin to paint the color boards. There is a method, but of course. The color sample card for each core color is attached to the back of one of the white poster boards and beside it, the name of the core paint color is noted in large lettering. Using one foam brush for each core paint color, the front of the boards are painted one coat, let to dry, and painted a second coat. The entire poster board is covered with good long strokes. Give the boards plenty of time to dry. Overnight is best.
Hint: While I like to cover the entire poster board with paint, the Design Consultant at Guiry's, Boulder suggests for the DIY'r, that a good inch on three edges be left without paint. This is to allow the eye a space between the existing color on the wall and the new color on the poster board. GOOD POINT!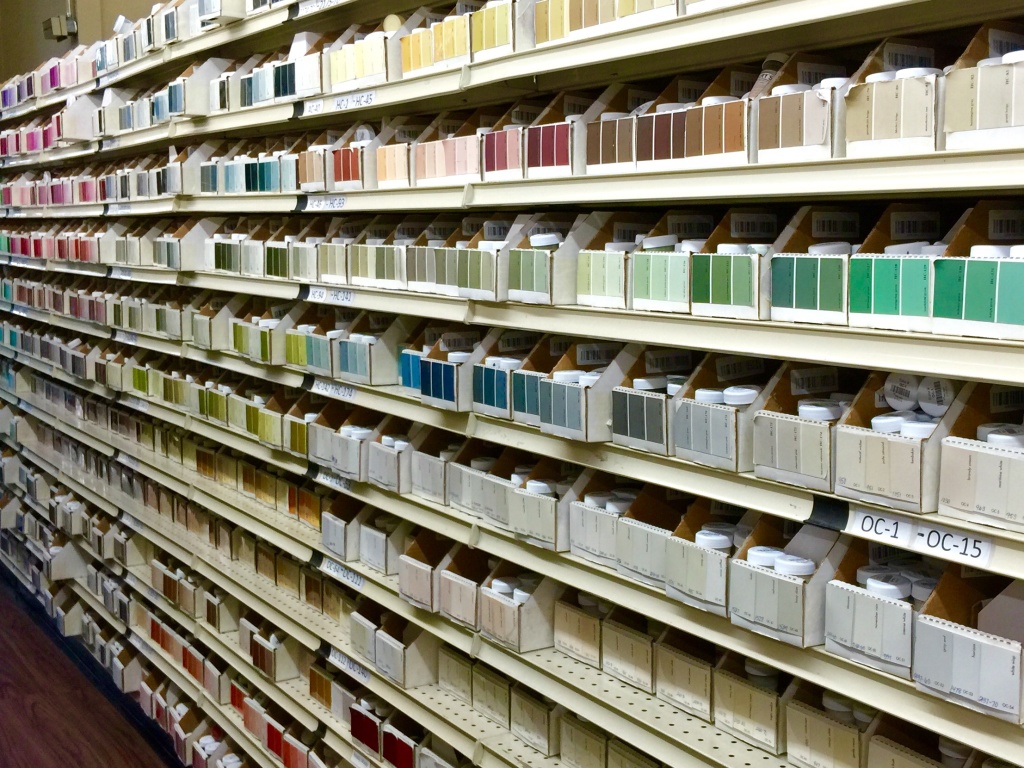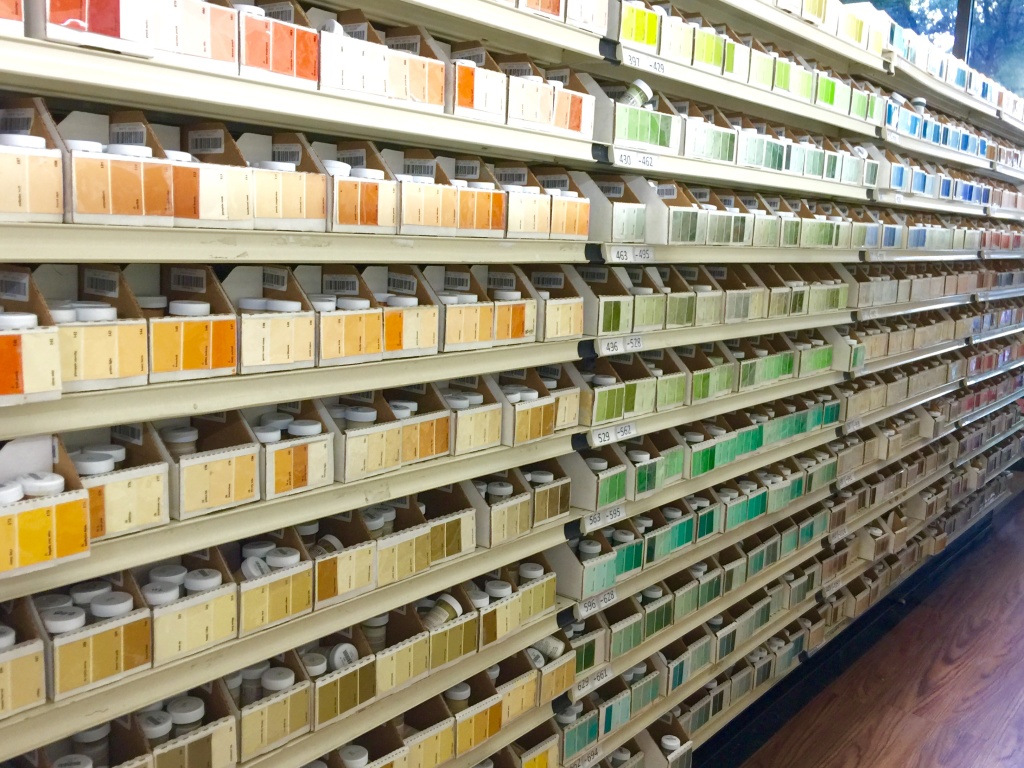 SPECIAL NOTE: Those wonderful little 2 oz. vials of Paint Samples are only available at Guiry's in Boulder! If you go to any Benjamin Moore store elsewhere you will need to purchase the pint sized containers….as you will see in the images below of me painting Color Boards for an LA client. However! You CAN call or email Guiry's and they will sell and send the little 2 oz samples to you.
Guiry's Color Source | 2404 Pearl Street | Boulder, CO 80302 | Call: 303-444-3800, EXT 4 | Email: decorating.store4@guirys.com.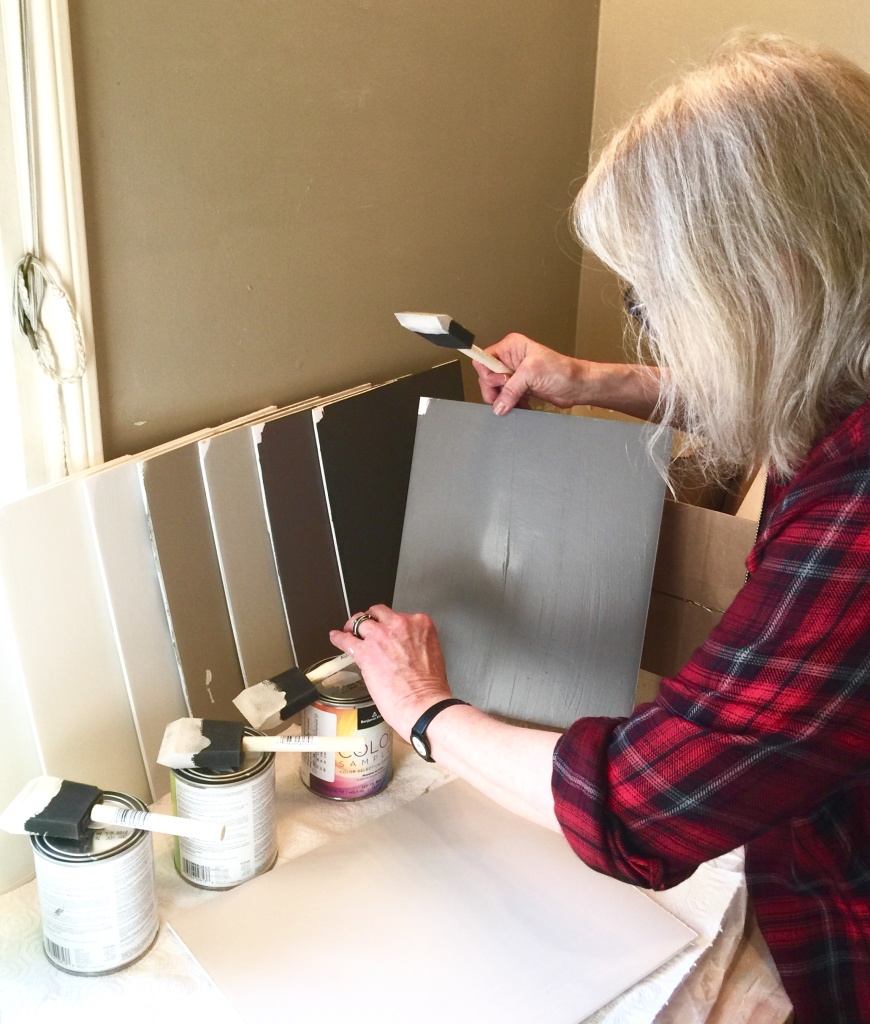 4. Making the FINAL choice.
>The core colors are now real! They have jumped from a simple printed color card, to an actual, real time, paint in two coats, on a nice big Color Board. This is the actual color that you will get when you paint your wall. Line the Color Boards up and play….
> I run through the same check list with the big Color Boards as I did with the little printed color cards. How does the color play in the LIGHTING TEST? Which Color Boards look best to the eye with the sample materials I have and any images available? The key here is not to think color, but feel it on an intuitive level, letting the color itself speak.
>At this point I have usually eliminated a few more colors from the mix and now have "a potential palette" nearly defined. The final test is completed in the space, at the home or office with the client.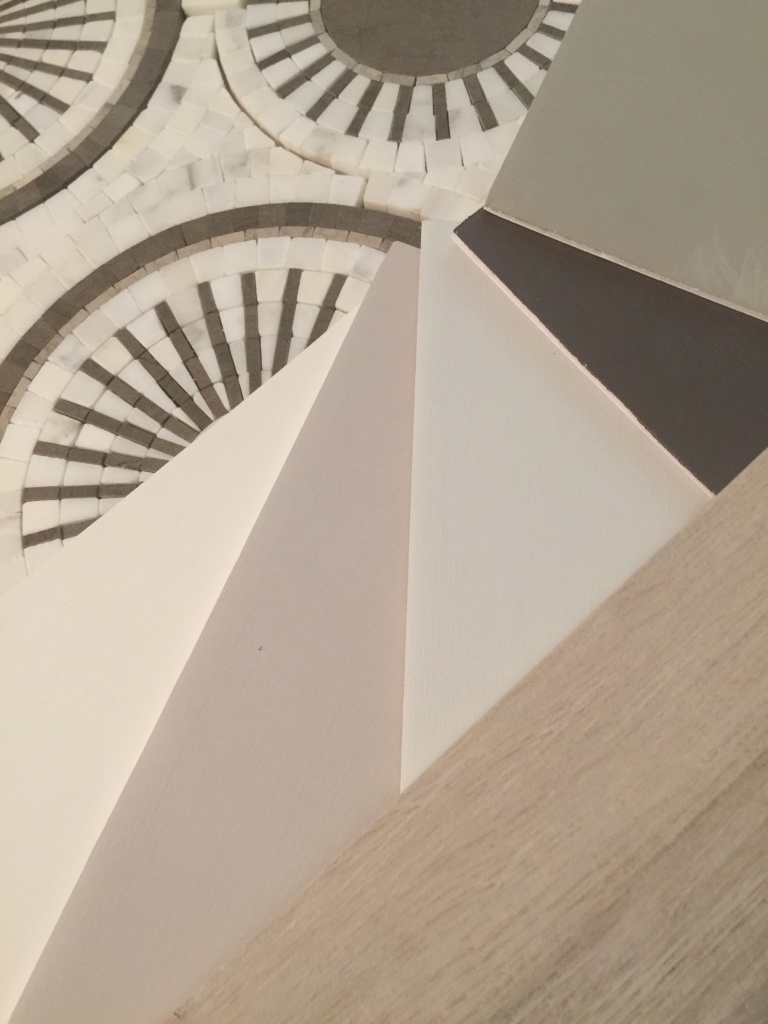 Hint: I occasionally provide more than one color palette for my client to review. In a recent project I developed two color palettes, one a cool toned palette and the second a warm toned palette. As I said previously, color is a shifty companion and will change right under your eye in any number of circumstances. One big circumstance is: at the site, in the home or office – where it will live.
>Now with my client, we take a good look at each of the Color Boards by palette, if there are more than one palette, and I describe to the client how the colors evolved, and where they might fit within his/her space. Often the client makes a decision for the final color scheme right then and there. If not, I like to cut off a portion of each Color Board to leave with them for their review.
>Now that the color palette is selected, and the color has been determined for each room, ceiling, trim or wall, I provide a Paint Schedule. The Paint Schedule includes a specific numeric designation for each color, such at PT-1, PT-2, and PT-3 and so on. It then notes the location for the paint, the paint manufacturer, the type of paint, full name for the paint, any special instructions and the finish desired. For more detailed paint layouts, I provide a pictorial guide or color coded pdf of the floor plan. It is important to note that the paint contractor should adhere to this schedule. Deviations cause error. If a paint contractor is to be hired, be sure to get one that will purchase the paint as specified.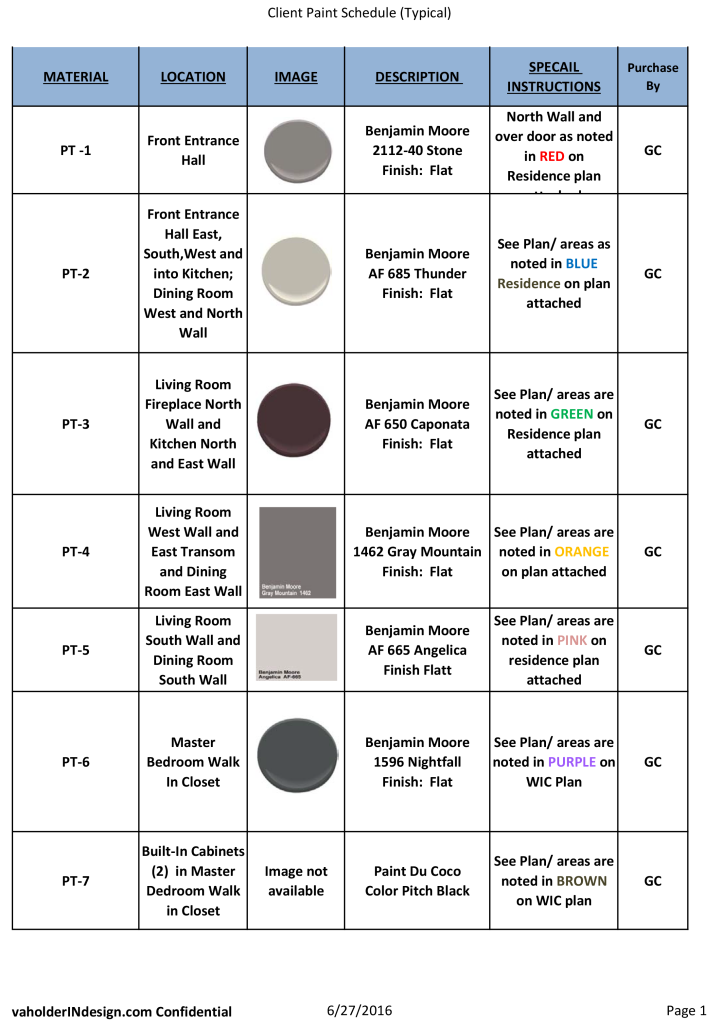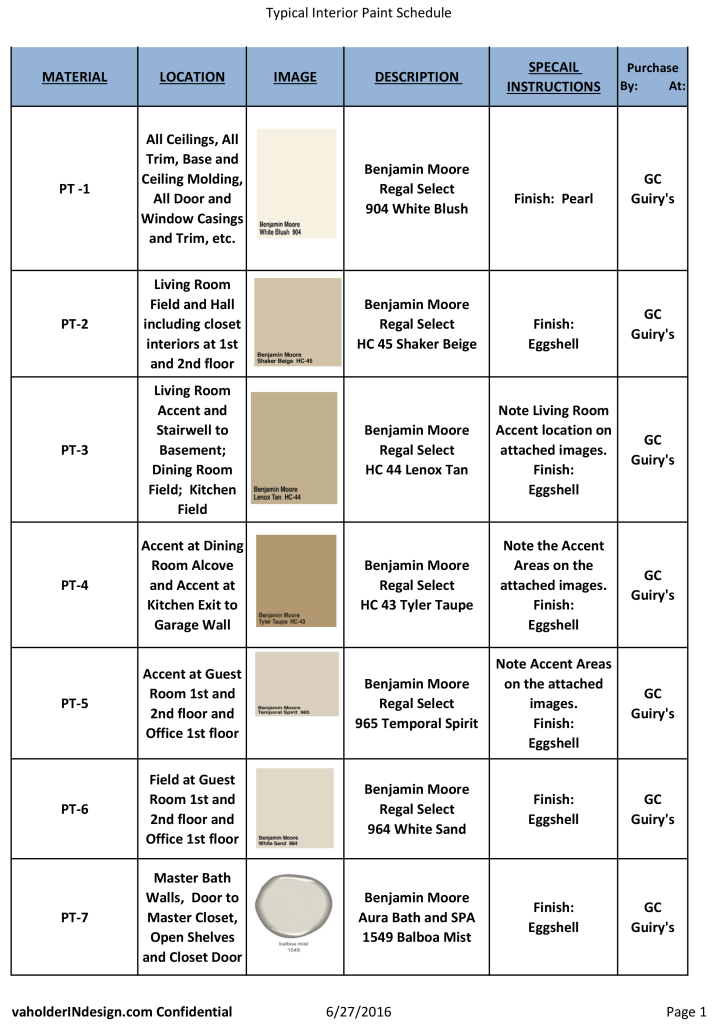 MORE THINGS TO CONSIDER
Paint Finish or Sheen: Paint comes in many choices of finishes from flat to high gloss. The choice of which finish to use in any given area is a personal preference but as a general rule of thumb use:

Flat, matte or eggshell for walls and ceilings
Pearl, satin, semi-gloss, or high gloss for trim and doors
Semi-gloss or high gloss for kitchens, laundry and bathrooms
Note that the higher the gloss, the more imperfections in the wall will be seen.

Feature or focal wall color: Consider one or two feature/focal walls that are painted in a special color. For example, if there is a nook in a wall or around a window area, accent this area with a deeper color tone or a bold statement of color. Another consideration: accent the wall behind the TV screen with a dark color. It will make the TV pop.
Use Shades or tints of color on opposing walls: Specifying one shade down or up for opposing walls effects the play within a space. The difference in color is slight and often not apparent to the eye, but renders a more dynamic space, creates movement and shading. Walls of all the same color can become too bland.
Ceilings? What to do! My professional and personal design preference for all ceilings in a residence is that they be white. Easy Smeesy. Hit the red button! I have specified Benjamin Moore, #904 White Blush for all ceilings in all our residential projects to date.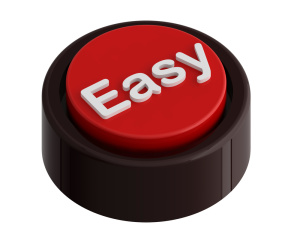 LET'S SUM IT UP!
1. Review your current color design scheme or pattern to determine a common thread of color.
2. Go to your local paint supplier to select initial color card samples.
3. Do the due diligent testing.
4. Have fun painting Color Boards!
5. Let the color speak for itself.
6. Working with the Color Boards, define color by wall, or room.
In answer to "what if you don't have an eye for color"???………….call for help! "Selecting paint color can be daunting if not vexing….. color can set the head spinning …… Color is a shifty companion: it will change right under your eye with any number of circumstances!
>>>>> If all else fails contact virginia@vaholderindesign.com
P.S. Here are some APPS that are fun to play with. But beware! The colors will not be true. The only way to actual, real time color is….. Color boards are an essential key to successful – no fail -color choices – never skip this step!!!
Thanks for reading our blog. We would love to hear your comments and how you fared with choosing YOUR paint color!
Va.